Practical Multi-use Pocket Protector by Maratac™
Description

Shipping Details

Returns

365 Day Warranty!

Launching January 31st
This isn't your Granddads nerdy pocket protector. The humble pocket protector of the 60s and 70s has been upgraded for 2022.
Our new, updated Pocket protector not only protects your pocket, puts all your pens, screwdrivers, rulers at the ready in one place. At the end of the day, all your gear comes out of your pocket at one time. 
The upgrades include making it out of Ballistic nylon and has a 3" x 1.25" Loop patch to attach your favorite morale patch  
We had these made for our 2022 SHOT Show Hospitality Suite. Unfortunately due to "Issues" we did not host a hospitality suite this year. The boss doesn't want to save them for the 2023 show, so we have only 500 pocket protectors available.
Works great organizing pens on your sun visor too.
Specs:
Material : 600D Nylon
Dimensions : 5.45" x 4.15"

Note : Patch & pens shown are not included
Where do you ship & how fast?
We ship orders Worldwide. If you don't see your country as an option at checkout let us know and we can help.
| Service | Shipping Time | Speed Of Delivery / Weight |
| --- | --- | --- |
| First Class Domestic | 2–5 Business Days | Standard ( under 16 Ounces ) |
| Priority Mail Domestic | 1-4 Business Days | Fast ( Over 16 Ounces ) |
| First Class International | 7+ Business Days - Varies by Destination & Customs Clearance | Standard ( Under 64 Ounces ) |
| Priority International | 5+ Days - Varies by Destination & Customs Clearance | Fast ( Over 64 Ounces ) |
Customs delays in some cases can add a couple weeks of delays in some cases depending on time of year. For example during the holiday rush wait times can be longer for customs clearance so order early.
How long does shipping take?
We ship within 1-2 business days Monday - Friday
How do I track my order?
We want you to be excited and happy with everything you buy from CountyComm so we offer quick & easy returns so you never have to worry ( Click Here )
Full 365 day warranty on all items we sell from defect or failure.
We stand behind every product we sell 100% from watches to flashlights, we have you covered!
S
Steven Pate
(Denver, US)
Geeked up to another level.
Metal sharpie✔️ Metal Scale✔️
3" 1000 lum Flashlight✔️ Engineering Pencil✔️ and just enough space for something else if needed or deemed necessary.
Fits perfect in front right pocket and with the interior flap makes everything fit snug to "NOT FALL OUT!"
reminds me to check tire pressure
I forget to check auto tire pressure as often as necessary to maximize gas mileage. I shock-corded this to the underside of my sun visor, and stuck in the air pressure gauge, a pen, and a mechanical pencil. As long as the shock cord doesn't eventually give way and snap into my face, this is a great set-up for me: I see it almost daily and it reminds me to do the checking. This was actually helpful because I record gas purchases, mileage, etc in a little notebook in the car, and I discovered a slow leak in one tire -- and got it fixed before it became a problem. I have a leather pocket protector for my pens in my shirt :-)
E
Eugene
(Colorado Springs, US)
curious protector
I have ordered 2 of the pocket protectors and quickly found out I do not have enough shirts with pockets deep enough, however my Triple Aught Design Force10 pants have front slash pockets which these fit nicely. I use them for my Tuff Writer pens which clip beautifully and out of the way.
A
Aaron Smith
(Lemont, US)
I definitely feel like CC hit one out of the ball park with these, they are really great. They fit perfectly in the chest pocket of the t-shirts I wear to work every day as a machinist. The materials are top notch, and so is the construction. The stitching is especially high quality.
They are a little stiff at first, but that's only because it's brand new, after a while of normal use they break in and are more flexible.
I regularly carry a sharpie, a pen, and a 6 inch steel ruler in mine at work. I also recently started carrying one of CC's Technician's Pocket Screw Drivers in it. There is enough room to carry a few more things if the need arises.
These could easily be used in other places as well, to help organize your stuff, like in a backpack or B.O.B.
U
Uncommon EDC
(Glendale, US)
Fun Pocket Protector
I've never been someone to wear a pocket protector but am working from home right now, the price is right and this one looked pretty cool so why not check it out. Seems to be well built and really enjoying the addition of the loop panel. May buy a few more to giveaway.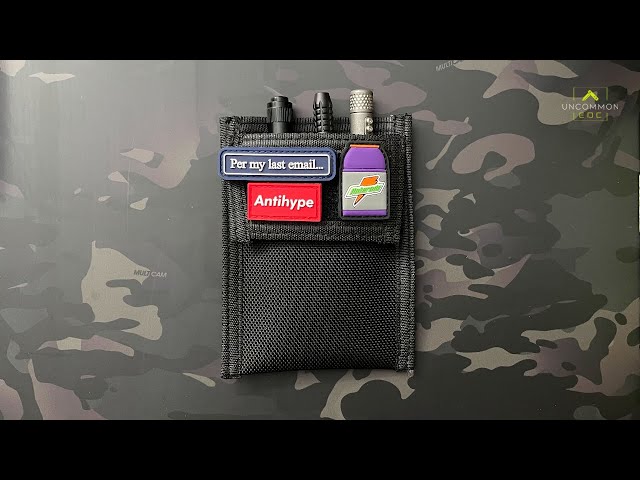 ---